Hi.
I just got my Arduino UNo + adafruit motor shield
I just connect both of them and everything is Ok but, when i try to connect even simple DC motor to one of its four inputs (M1 to M4) and i start very basic program to run connected motor, i got only green LED on motor shield blinking and nothing more (i hear very weak noise from arduino board).
I was trying on feew diferent DC motors and always the same.
Its a problem with not enough power ? or i need to something more ?
I got 9V DC power supply to power UP arduino, i need to powerup motor shield too or what ?
I got too stepper motor Mitsumi M4
2SP-4NP
and I cant find any info about that one (tehre is many M4sp steppers but not that one.
I grab him from old printer. I cant find any info about his voltage and power what he need to run, i got only info about impedance (40 ohm)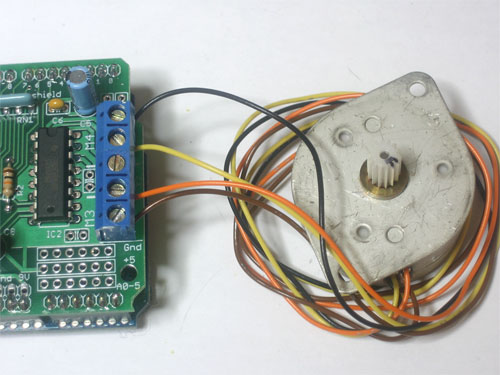 Looks like this one, but mine got 5 wires.